---
František Kučera: Elita defenzivy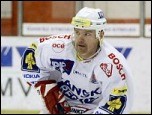 Pokud by se vyhlašoval nejlepší český obránce desetiletí, tak František Kučera by nominaci měl určitě jistou. Už je to takřka tři roky co se tento hráč rozhodl zanechat aktivní činnosti, ale určitě stojí za zmínku si uživit veškerá důležitá fakta jeho nesmírně bohaté kariéry. Zahrál si ve finále Stanley Cupu, je dvojnásobným mistrem světa a má olympijské zlato.
S velkým hokejem začínal symbolicky na Spartě. Poměrně brzy si vybudoval pevné místo v sestavě. V roce 1990 nastoupil vojenskou službu v Dukle Jihlava a paradoxně jen z dálky mohl přihlížet, jak se jeho bývalí spoluhráči radují z mistrovského titulu. Po sezoně se rozhodl zkusit štěstí za oceánem. Od roku 1986 na něj vlastnilo po draftu právo Chicago Blackhawks, a tak nastoupil do letního drilu přípravy právě tam.
V premiérovém ročníku pendloval mezi hlavním a záložním týmem. Určitou výhodou bylo, že měl v týmu krajana Haška. Dalo se tušit, že s ním klub bude počítat. Domněnka se potvrdila, v dalším ročníku se už stal pevnou součástí týmu. Blackhawks pod vedením nepříliš populárního diktátora Mikea Keenana, ale kráčeli napříč play off velmi statečně. Ve finále však narazili na celek Pittsburghu Penguins, který obhajoval triumf z minulé sezony. I přes výborně rozehraný první zápas, kdy po úvodní dvacetiminutovce vedlo Chicago tři nula, nedokázali ani jeden dovést do vítězného konce. Tým okolo legendárního Maria Lemieuxe je smetl v poměru 4:0 na zápasy a mohl si opět užít radostných oslav.
Pro Kučeru to byla velmi cenná herní praxe. U Jestřábů vydržel další necelé dvě sezony, než jej vedení trejdovalo do Hartfordu Whalers. Během stávky v ročníku 1994-95 se vrátil krátce do Sparty Parha, kde odehrál 16 zápasů. Během dvou sezon pak vystřídal další dva kluby, což mu psychicky ani herně moc nepomohlo. V roce 1997 se rozhodl NHL opustit a jeho comeback do Sparty byl hotový během několika málo dní. Adaptace na evropský styl Kučerovi trvala méně než se původně předpokládalo, brzy začal ukazovat své přednosti. Právě jeho přehled a hráčské schopnosti se staly pro pražský klub nepostradatelným faktorem úspěšné hry. Po boku dalších ostřílených hráčů jako Bříza či Žemlička se mohl v roce 2000 radovat z mistrovského titulu, po němž tolik toužil.
Své umění přenesl i do reprezentace. V roce 1998 a 1999 byl dokonce vyhlášen nejlepším obráncem šampionátu. V letech 1999 a 2000 se mohl dvakrát radovat zlatého českého triumfu, včetně fantastického triumfu v Naganu. Se svým tehdejším klubovým kolegou Michalem Sýkorou vytvořil obávanou dvojici, o které básnila celá Evropa. Kučera se sice po svém zámořském návratu zmínil, že NHL je pro něj uzavřená kapitola, ale volání Columbusu vyslyšel a vyrazil do zámoří. Na chvíli se dostal i do Pittsburghu, ale po sedmi zápasech už putoval spolu s Jaromírem Jágrem do Washingtonu, kde se také vydal až znovu ze Sparty.
Další roční zahraniční anabáze mu stačila, chtěl zprátky do Sparty. Jenže nastal problém, vedení o něj nestálo tolik, jak si nejspíš on sám představoval a tak se dohodlo s městským rivalem ze Slavie. Vychutnal si i další ligový titul, ale pouze v civilu, neboť do finále nemohl nastoupit pro zranění. Posléze křivka úspěšnosti už šla dolů, ostříleného veterána začaly trápit zranění a to také značně ovlivnilo jeho chuť do dalšího aktivního hraní. V říjnu roku 2004 se po dohodě s generálním manažerem Vladimírem Růžičkou rozhodl ukončit vzájemnou spolupráci a tak také zanechat aktivní činnosti. Extraliga ztratila velký klenot, který byl dlouhou dobu skrytý očím českých fanoušků. V současnosti se věnuje svéým synům a provozuje v Letňanech hokejovou školu.
Kariéra:
Československá / česká nejvyšší soutěž: 445 utkání / 166 bodů (60+106).
V NHL: 465 zápasů / 119 bodů (24+95)
Reprezentace: 121 zápasů / 15 branek
Úspěchy:
Olympijský vítěz 1998, mistr světa 1999, 2000
Nejlepší obránce extraligy 1998, 1999, 2000
Hokejista sezony 2000
Nejlepší obránce MS 1998, 1999
All-Star Tým (MEJ 86, MS 98)
(c) Jaroslav Pazdera, použito i na HokejPortal.cz

Komentáře
Přehled komentářů
---
---